Dr. Childers Voted Best Pediatrician 3 Years in a Row!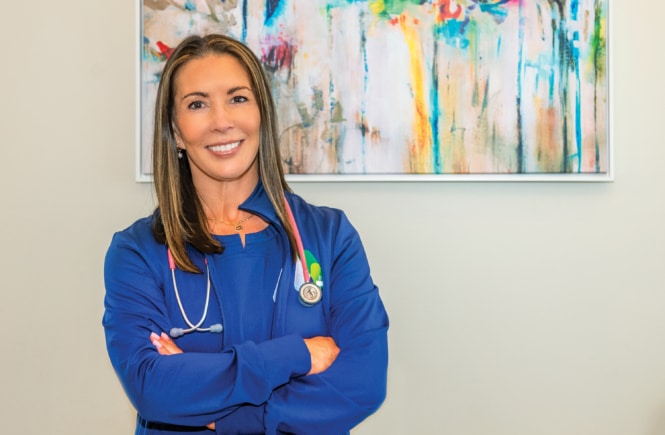 Coastal Style has once again recognized the exceptional talent of Dr. Maria Childers-Reed. In an extraordinary achievement, Dr. Childers-Reed has been awarded Best Pediatrician by Coastal Style for the third consecutive time. This remarkable feat is a testament to her unwavering commitment to the well-being of children and families she serves.
When Dr. Childers initially launched her pediatric practice under the Atracare brand, she never imagined that it would grow to such heights. Her primary goal has always been to provide top-notch care to as many children as possible. As her reputation spread, the demand for her expertise increased, leading to the expansion of her staff to four providers and five medical assistants to accommodate the growing number of patients.
This year, Dr. Childers continued her dedication to her patients by continuing to provide outstanding support for families in Sussex County.  She firmly believes that "patients need a central home for medical services that allows them to understand and control their well-being." Patients who visit her practice appreciate the ease of access and leave with a sense of relief, knowing that their questions have been addressed. It is this patient satisfaction that fuels her enduring passion for medicine.
About Dr. Childers
Dr. Childers' journey to Coastal Delaware was inspired during a family trip, and in 2011, she made the move to Lewes. With a vision to provide highly skilled and modern medical treatment to local children, she collaborated with Atracare to build a cutting-edge pediatric clinic. Her practice offers a "one-stop shop" for her patients, providing convenience and comprehensive care, including in-house lab tests, x-ray imaging, and the distribution of essential medications and antibiotics.
As told by Dr. Childers:
"It is my great honor to continue to serve the wonderful families of Sussex County.  There isn't a day that goes by that I don't learn something new about your families and the beautiful community in which we are so fortunate to live. I feel that patients should have a central medical home and firmly believe all children and their parents should have a clear understanding of their health.  I also believe that there is no greater comfort than knowing you have someone advocating on your behalf—my #1 priority.  Whether your child is sick or needs a well checkup, my goal as director of pediatrics at Atracare Health is to create a welcoming and efficient environment that will make your child's visit to the doctor a more pleasant and comfortable experience. I vow to provide the same high-quality and compassionate care that my patients have come to expect from me.  I consider myself incredibly fortunate to love my career in pediatrics and look forward to embarking on this new and exciting journey with you!"